When a company decides to go public, it has two options to raise capital: SPAC and IPO. IPO is more of a traditional way to get listed on a stock exchange. It happens when the company with an established business model and operations goes through all the regulatory requirements and gets listed on a public exchange. SPACs became very popular in 2019. They offer a so-called reverse merger when the shell company goes through the IPO process first and then an established company goes public via this shell company.
IPOs
– takes 12-18 months
– IPO price depends on the overall market conditions
– the underwriter makes sure all regulatory requirements are met
SPACs
– takes 3-6 months
– the price is negotiated prior to the transaction closure
– the target company doesn't have an underwriter
Despite the popularity of SPAC investment over recent years, IPO has shown greater consistency in returns, according to Bloomberg study.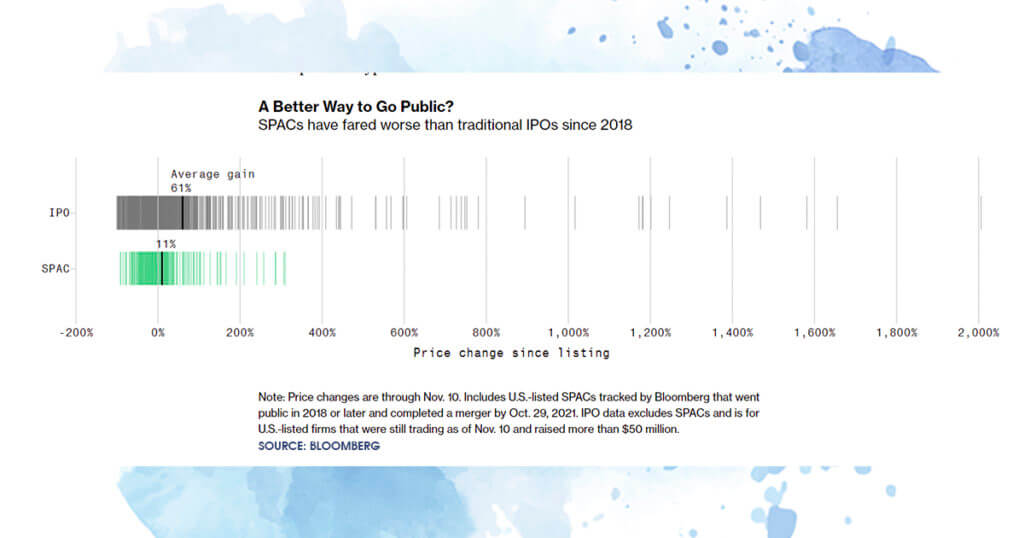 Source: bloomberg.com
---
Risk Warning: The information in this article is presented for general information and shall be treated as a marketing communication only.  This analysis is not a recommendation to sell or buy any instrument.  Investing in financial instruments involves a high degree of risk and may not be suitable for all investors. Trading in financial instruments can result in both an increase and a decrease in capital. Please refer to our Risk Disclosure available on our web site for further information.