It took nearly two decades for Virgin Galactic to develop a winged plane equipped with a rocket motor that finally brought the company's founder Richard Branson and the other crew members to space this July. Millions of people watched the live stream of the 90-minutes journey to outer space and wondered what this first commercial flight meant for humanity. Virgin Galactic became the first space flights company to become publicly traded on the New York Stock Exchange.
Economists view the company's potential not only in commercial space journeys but also in hypersonic intercontinental flights that seem to be a more practical implication of the company's developments. Elon Musk's SpaceX and Jeff Bezos's Blue Origin companies are not yet publicly traded, even though there are enough rumors predicting their near-future IPOs. This does not prevent the founders of these companies from keeping public opinion tied to space exploration perspectives. Investor's appetite for cosmic dividends seems to be growing.
According to the Morgan and Stanley estimates, by 2040's the global space industry could triple its revenues and generate over $1 trillion.
Notably, the space companys' potential is not limited to commercial flights. Satellite broadband Internet access and other data transmission seems to be a much more prosaic yet demanded implication of space-related research and technologies.
Even though SpaceX and Blue Origin are not open for retail investors yet, there are other ways they can participate in this space race for profits. Seraphim Space Investment Trust was listed on the UK exchange this July. Astra Space, Momentus, Redwire Space, and RocketLab are the most recent acquisitions that opened some investment opportunities via newly created SPACs. Procure Space, and the ARK Space Exploration ETFs are also actively traded.
ISEC Wealth Management warns of the risky nature of investments in space technologies. They are to be considered alternatives with a corresponding significant risk imposed on the capital invested.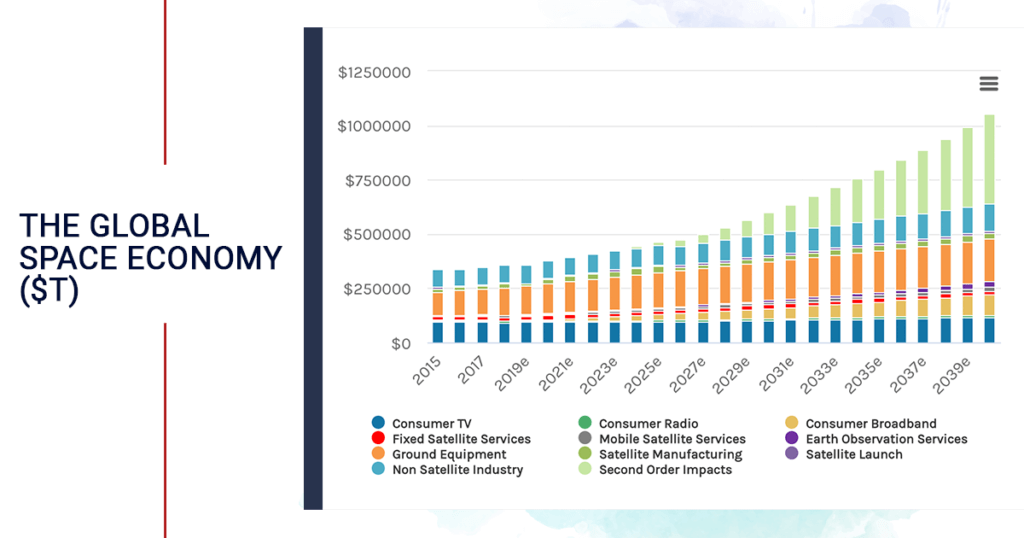 ---
Source: morganstanley.com
---
Risk Warning: The information in this article is presented for general information and shall be treated as a marketing communication only.  This analysis is not a recommendation to sell or buy any instrument.  Investing in financial instruments involves a high degree of risk and may not be suitable for all investors. Trading in financial instruments can result in both an increase and a decrease in capital. Please refer to our Risk Disclosure available on our web site for further information.